The 100% Made in Italy Certification is released only after a process of investigation and verification by the Institute for the Protection of Italian Producers, ensuring that products are:
entirely Made in Italy
made with italian components
made with natural top quality materials
made according to the Company's exclusive styles and designs
made according to the typical Italian craftsmanship and tradition
Pedini have played a leading role in the European kitchen design industry for over 50 years. All Pedini products are internationally certified to the highest standards. This has been achieved by adopting modern manufacturing techniques, environmentally friendly products, non toxic glues, varnishes and other ecological materials. The result is a product that is completely sustainale and recyclable.
Pedini is 100% MADE IN ITALY certified, ensuring the consumer the Italian origin and quality of the purchased products. This certification is only granted after a process of investigation and verification by the Institute for the Protection of Italian Producers, ensuring that products are entirely Made in Italy, with Italian components, natural top quality materials, according to the Company's exclusive design and according to the typical Italian craftsmanship and tradition. Link to Pedini certificate.
Hinges are very important, our hinges have triple adjustment with 110º and 170º opening; they are protected in galvanic bath to resist vapours and chemical agents and they are tested for 200,000 openings and certified by LGA according to the Deutsch body of leglisation.
We are 99.9% sure you will not have any issues with your new kitchen, but just in case we offer 7 years warranty with all our models.
Pedini offer an extensive range of interior accessories to maximize the efficiency of your new kitchen, including pull out corner and larder mechanisms, cutlery inserts, plate holders, dish drainers, recycling bin systems and integrated LED lighting for all units. All our units have an integrated dust seal and soft closing mechanism on all doors and drawers.
DUNE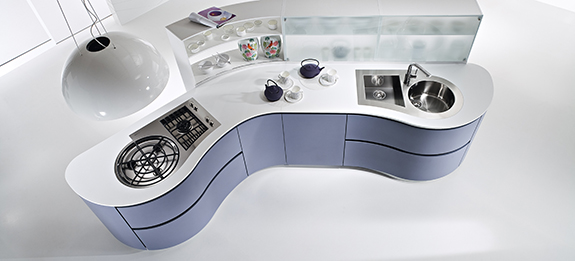 Dune
Design: D. Paolucci
Instantly recognizable by Pedini's trademark curves, the Dune kitchen uses linear and curved elements to create the WOW factor. A wide range of colours and finishes are available including glossy lacquer, matt lacquer, embossed microtexture and walnut wood veneer. The Dune model suits open-plan living for the design conscious client.
ARTIKA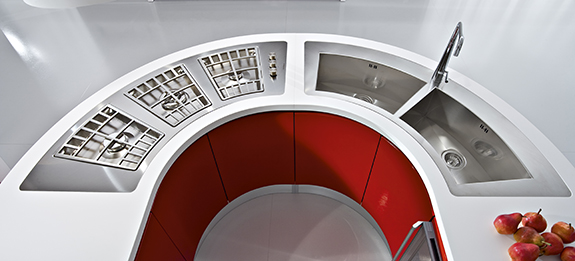 Artika
Design: D. Paolucci
The 'star' Artika kitchen which featured in the Spanish Big Brother house is undoubtedly our best seller. The model uses all Pedini's curved units for an ultramodern look, going way beyond the classic concept of a kitchen. The curved sink and hob are exclusive to Pedini and perfectly compliment Artika, used together they become the centre point of operations, beautiful in form and function.
INTEGRA
Integra
Design: D. Paolucci
Integra is our multifunctional kitchen, combining curves with linear elements to create an effortless and sophisticated approach. In 2011 Integra was restyled for the emerging trends and now includes open shelving, custom made flat screen TV units and extra extra tall 2.7m high units. The newly introduced veneered wood colours - camoscio, tabacco, silver, dark & grey oak, make Integra feel more like furniture and less like a kitchen.
SYSTEM COLLECTION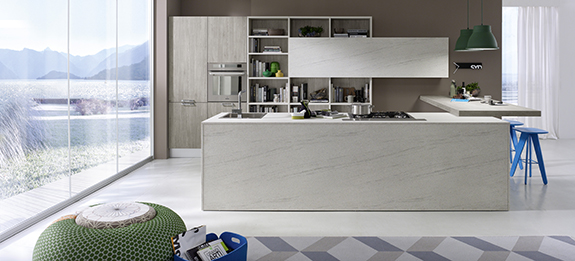 System Collection
Design: D. Paolucci
The System collection is the cutting edge of new design and technology. The innovative use of Laminam ceramic panels clad onto an aluminium frame make it possible for the client to have a kitchen completely made of stone. Doors are also available in elm veneered wood, laminated stone, laminated wood, glossy laminate, lacquered gloss, matt and embossed microtexture colours and matt and glossy lacquered glass – making System the model with the largest variety of available door finishes.
MAGIKA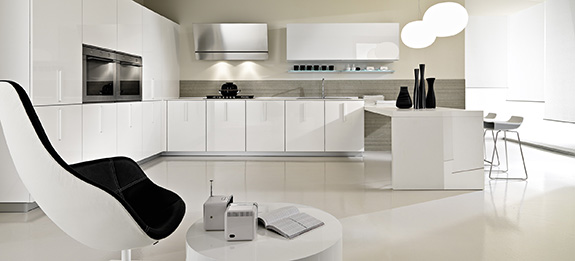 Magika
The Magika kitchen is fashionable, functional and affordable. It is available in handless or with vertical handles. Door finishes include textured wood colours or glossy white lacquer. Other glossy/matt lacquer finishes are available on request. Base units are extra tall and extra deep allowing the user additional storage space and work surface.
With Magika, Pedini succeeded in designing a modern, clean and practical kitchen with quick delivery at an appealing price.
EKO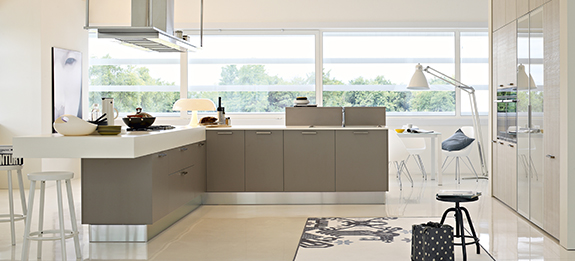 Eko
EKO was designed to demonstrate Pedini's commitment to a better, eco-friendly planet.
Its development allows the customer to own an advanced, contemporary European kitchen, at an affordable price without sacrificing quality, technology or design. Doors are available in a variety of textured laminate woods and matt bi-laminated finishes.
VINTAGE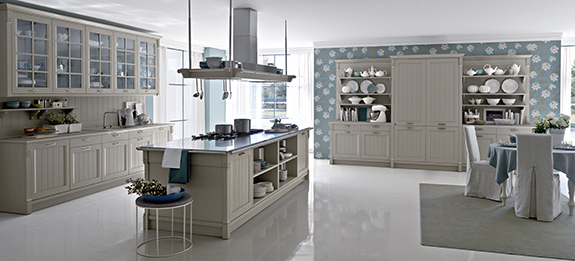 Vintage
Pedini take a look to the past with their classic Italian kitchen - Vintage. This traditional model is available with framed doors in walnut, antique oak, white, cream and 3 different shades of painted grey oak.
It is designed with all of today's modern conveniences, but with the warmth of natural wood and the softness of painted wood finishes.